Under The Psycamore Neo-Progressive Rock from Sweden.
The Swedish Stockholm-based duo Under the Psycamore is in every way the definition of a true progressive rock band. Their debut album "I" is a melting pot of 70's rock, math metal, classical music and rich vocal harmonies.
Trey Gunn (King Crimson) calls them "TOOL meets Motorpsycho meets Radiohead meets Yes."
Stick Men King Crimson alumni Tony Levin and Pat Mastelotto
join with Chapman Stick master Michael Bernier in this unique album
featuring multiple Sticks. Levin, noted for the unique Stick opening riff of "Elephant Talk" on the seminal King Crimson album 'Discipline', is a premier player of the instrument. Here the band showcases 56 minutes of hard-edged progressive rock, including an ominous rock rendition of Stravinsky's "Firebird Ballet". The title track "Soup", mixed by Porcupine Tree's Steven Wilson, is about the Large Hadron Collider(!) and classically-structured "Hands" and "Relentless" feature high-energy speed playing meeting mellow bowed sections. Stick Men follow this release with a world tour, including dates in N. America, Japan and Europe.
Pat Mastelotto Pat Mastelotto, the internationally-renowned drummer whose pioneering work with King Crimson, Mr. Mister and XTC has cemented him as one of experimental music and pop/prog-rock's most talented percussionists, releases Recidivate, a collection of outtakes, rarities and highlights from the past 20 years of his career.
Pat has spent a lifetime jumping genres from pop, to prog-rock, to electronica to world music and the unlimited boundaries of Crimson. providing a natural segue for Mastelotto's entry into one of the more extreme improvised experiments : HoBoLeMa - with Alan Holdsworth, Terry Bozzio and Tony Levin. As well as continuing ongoing world tours with band/projects: TU, KTU, TUner, TUnisia, Stick Men, HoBoLeMa (with Alan Holdsworth, Terry Bozzio and Tony Levin), while still a member of King Crimson.

KTU Finnish accordion daredevil Kimmo Pohjonen joins with Trey Gunn and Pat Mastelotto (from King Crimson) forming the trio KTU (pronounced "K2"). KTU has performed in Russia, Mexico, Spain, Portugal, Estonia, Germany, Austria, Slovenia, Finland, Norway and the Spot Festival in Denmark.


David Fricke of Rolling Stone calls them "a robust tumult of Northern Lights sparkle, white-wolf guitar wail and rolling knotted thunder." Fricke continues, "When I saw KTU play in Europe recently, they were as powerful and transgressive as the killer King Crimson. Pohjonen is a wonder unto himself: animating his wind song with pedals and processing; attacking the bellows with the ecstatic fury of Jimi Hendrix."

Phurpa Before Buddhism reached Tibet, local people had practices involving shamanic rites derived from various ancestral cults. These rites evolved into what we became known as Bon. Phurpa, led by contemporary artist Alexei Tegin, is a Moscow based group in this tradition.
A typical ensemble usually includes a pair of nga drums, several rolmo cymbals and a pair of gyaling oboes, as well as telescopic dunchen horns, dunkar shells and short wandun horns. One of the unique features of the Tibetan monastic choir is a specific kind of overtone chanting, called "rgyud-skad", or the Tantric voice, which is based on the principle of the singer's transmogrification during the so-called "chanting meditation".
Inna Zhelannaya Inna Zhelannaya was the first world music star in Russia. She was the founder of the group "The Farlanders" which performed in hundreds of prestigious festivals in throughout Europe, Asia and the USA. She has been releasing solo records since 2000.
"Cocoon", the first release of Inna Zhelannaya's in the USA, is based on Russian folk songs. Inna is known combining electronica, trance and progressive rock with traditional songs from the different regions of her native Russia. Executed with the utmost care for these ancient melodies, meditative "Cocoon" has been acknowledged a boundary smashing work for Zhelannaya. The cd is co-produced with Trey Gunn and features his playing on several tracks.
Trey Gunn In addition to his eight solo recordings, ten-string touch-guitarist,

Trey Gunn has toured and/or recorded with King Crimson, David Sylvian, Vernon Reid, Brian Eno, TOOL, Azam Ali, Puscifer, John Paul Jones, Robert Fripp, David Hykes of The Harmonic Choir, Matt Chamberlain and Punishment Farm. He is currently working with KTU, his multi-dimensional performance group Quodia, and has scored a Russian film entitled "Dead Daughters."
Quodia Featuring Trey Gunn (King Crimson), Quodia "is a synthesis of music, theater, video art and animation; a psychedelic, contemporary parable" -- BBC Moscow
"The Arrow" CD/DVD is digital storytelling at it's most adventuresome. Part modern myth, part film score, these 7 stories are narrarated and set with the kind of powerful music that Gunn has been known for with his 7 solo records and over 100 collaborations with many contemporary masters.

Special guests include Regina Spektor, Azam Ali, Matt Chamberlain (Tori Amos, Bill Frisell), Pat Mastelotto (King Crimson). Also, includes 5.1 surround mixes and a children's commentary track giving their unique perspectives on the stories.
TU Crazy, sick, heavy, electronic, loud and raw tunes and improvisation from King Crimson rhythm section Trey Gunn & Pat Mastelotto.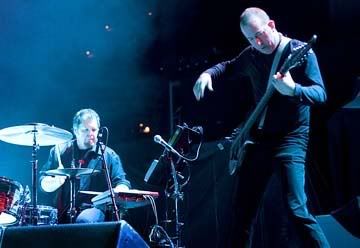 "Stunning debut from the two quiet KING CRIMSON players, reveals a Squarepusher, Zeppelinesque bombast tempered with an ambient Eno textured calm juxtaposed with the fury of a Coltrane improvisation."

TU has toured in Poland, Russia, Japan, Mexico and the USA. They have perfromed with and joined TOOL onstage for several legs of their USA tours.